Hironaga Furniture Coordination
COORDINATION
"Nostalgic is comfortable"
~Enrich your daily life in a warm Japanese space~
Healing Furniture Shop Hironaga
A relaxing space with tasteful Japanese furniture
COORDINATION
The rooms, which incorporate traditional Japanese furniture, create a calm space where you can naturally relax.
"Japanese" interior that has been familiar in Japan for a long time.Japanese-style rooms are disappearing due to changes in lifestyles, but if you want to enjoy a calm and relaxing Japanese atmosphere even in a Western-style living room or bedroom, a modern Japanese interior style that goes well with flooring has been created and is loved by people of all ages. I'm here.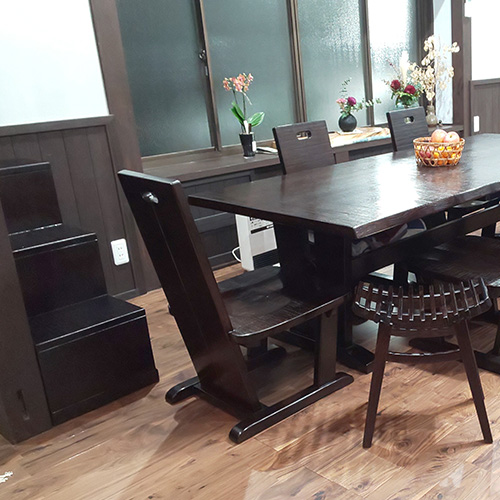 Sawtooth Dining Table Set + Folk Art Staircase Chest + Folk Art Chest + Stool
The spacious table where many precious family and friends gather is a special size of 2200mm.You can store plenty of things you always use, such as a folk craft staircase chest that you can reach while sitting.In order to hide electrical outlets, etc., a frame is made behind the folk art chest to make it look neat.Mr. K's house, where we painted the fittings and other colors to match our furniture, has become a wonderful space like a showroom.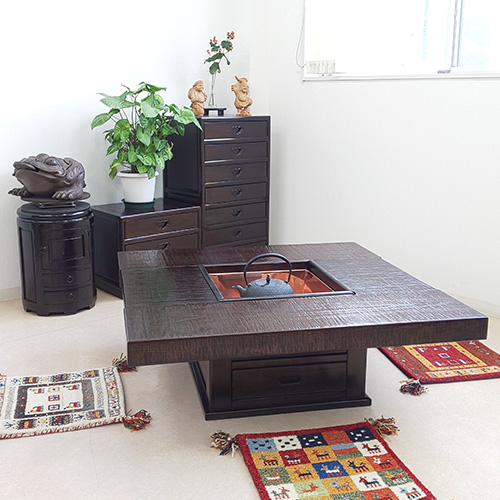 Saw-shaped hearth upper stand + XNUMX-tier chest + XNUMX-tier chest + Maruhana stand + Gabbeh
Incorporating Japanese into the Western style, the living room has been made into a modern Japanese space.It became a vivid space by placing Gabbeh from monotonous color.We propose a nostalgic yet new "chic" lifestyle.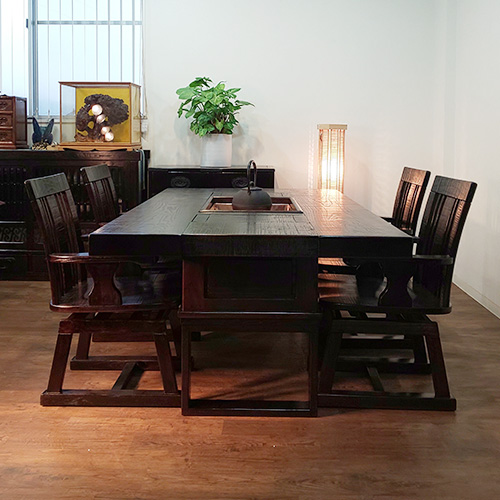 Sawme hearth set + Folk craft chest + Folk craft sideboard + Lantern lighting
We propose a table with a hearth in the office.Why don't you treat your important customers with office furniture that is a notch above the rest? ?By creating a calm and healing space, conversation with customers will be lively.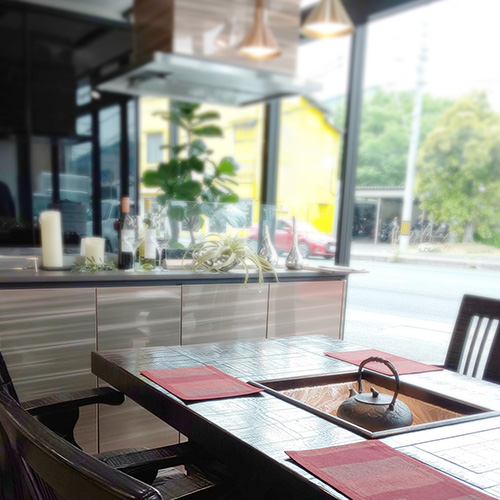 Folk art hearth table set
For the dining room, we propose a hearth table with plenty of presence to enjoy the beauty of use by matching the color with the kitchen counter and cupboards.It's a very stylish space.By installing it near the ventilation fan, ventilation is safe even if you actually use charcoal.